In July, HQP hosted a delegation of women in the timber industry (and one token male) from the Women in Forests and Timber Network (WFTN) at our nursery and forestry operations at Toolara and Amamoor State Forests.
The aim was to provide an opportunity for women who work with the end products to see and experience the very literal "seeds" of the supply chain, where the journey from tree to timber beam begins.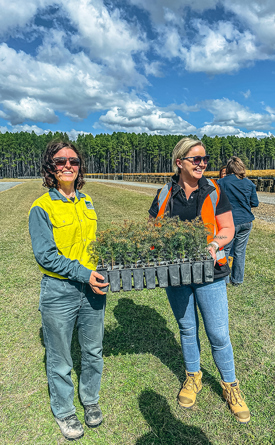 The group started the day at the Toolara nursery, where HQP's seed production and tree improvement coordinator Kate Clapson described the genetic research and plantation cycles that have led to the hybrid Southern Pine species that we plant today.
Everyone then moved to a newly planted compartment, where forester Mitch Maddock gave an overview of what the first four years of managing a new plantation looks like. The next stop was a harvest site, where lead forester Randall Norris provided a comprehensive explanation of the operations.
The participants found it incredible to see (and smell) the raw resource, and even more so to see a female operator on the harvesting machine! Lunch was provided courtesy of the 2021 WFTN Annual Partners, Big River Group - thanks to them for making the day possible.
The final stop of the day was a visit to an Araucaria plantation in Amamoor State Forest in the Mary Valley. Here foresters Alison Dillon and Regina Dodd discussed the various stewardship activities HQP carries out. The women helped Regina to release jewel beetles – a natural approach to fighting cat's claw vine, which is an invasive species that smothers vegetation and can devastate forest canopies if left unchecked.
The group left HQP full of information on how we grow and care for our forests and enthusiastic to use this knowledge in their roles back at their respective workplaces.