Pine essential for manufacturer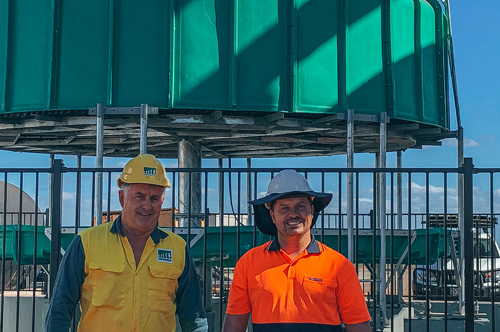 Essential Queensland is a Bundaberg-based company manufacturing sustainable natural plant extracts including rosin and terpenes from HQP's Southern Pine, which is extremely high yielding for these products.
The company is a key raw material supplier of rosin and terpenes to the chemicals and hydrocarbon industry. Managing Director Ray Mountfort said they have been able to demonstrate that there is considerable value in the products they are extracting from HQP's Southern Pine trees.
Essential Queensland has recently expanded their pilot facility which was built in 2018 at Isis south of Bundaberg. The expansion has delivered a full commercial facility capable of producing natural sustainable products to be internationally competitive with the petroleum-sourced chemicals they replace.
Ray explained that while rosin and terpenes are derived from the same source, they have very different applications with two distinctly different market groups. Terpenes are used in perfumes, disinfectants and health care products and the rosins in adhesives, paints and glues. Essential Queensland uses its own solvent generated from terpene in the pine trees to facilitate the extraction of the required rosin, which is a world-first.
The pilot plant extracted only 15% of the available product yields, as only terpenes were extracted and no rosins. The company expects to process 100 tonnes of pine wood per day initially with the new plant up and running. Once they are extracting terpenes and rosin together, profitability will improve as they will be extracting all the available chemicals from resinous logs.
Essential Queensland is the first company in Australia to extract terpenes and rosin from pine woody material. The process does not just involve the use of the bole or main trunk of the tree but also extends to the stump to utilise all the timber from the pine log. Nothing is wasted in this process, even the post extraction wood chips are scheduled to be shipped overseas through the Port of Bundaberg for use as a heating product.
Investment is made right along the supply chain from log selection to specific chipping and extraction methods to maximise product output.
Ray said he had been refining production techniques for the past three years and had developed a patented process that involves extracting rosin and terpenes from pine logs. Essential Queensland has recently entered into an agreement with Leaf Resources, an ASX listed company. Essential Queensland will maintain control of operations and operate as usual but with the financial backing of the ASX company and associated shareholders.
Leaf Resources has several patents of its own in the extraction of chemicals which can complement both business models through the sharing of technology in order to maximise the extractive processes for rosin and terpene and ultimately improve production.
The expanded plant is capable of producing approximately 8000 tonnes of pine chemicals per year. Essential Queensland has recently employed additional staff and expects to have more than 15 staff members to facilitate full production.
Photo: Company partner Grant Yeatman with HQP's Steve Dobson at Essential Queensland's growing Isis facility near Bundaberg.