Butchulla Artist Joel Barney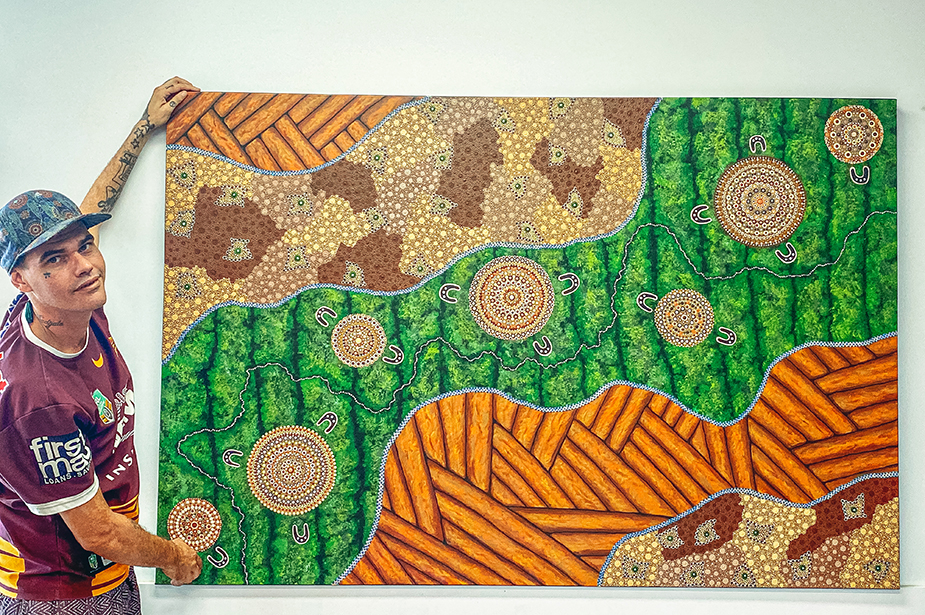 Earlier this year, we commissioned an artwork to represent the coming together of Indigenous people and HQP on country and selected Joel Barney, a young Butchulla artist.
Joel's Ku'lulu Dauwa Dhu story pine tree timber story was presented to us on 24 March 2021 and is hanging in the foyer at our Toolara office where anyone is welcome to come and view it. We were delighted with piece, impressed by its size and moved by its meaning.
Read on to learn more about the meaning behind this stunning Indigenous work of art.
Ku'lulu Dauwa Dhu pine tree timber story
The symbology reflects different groups of people meeting and travelling together on a journey toward a sustainable future for present generations and those to come.
The log pattern in groups of threes represents the lores ingrained in Butchulla people:
What is good for the land comes first
Do not take or touch anything that does not belong to you
If you have plenty, you must share.
The Butchulla people believe living by these lores will help Mother Earth heal from the damage of the past and provide a blueprint for working together.
The circles, representing different species of pine, and repeating patterns reinforce sustainability, including the continual, circular nature of plantation forests – planting, growing, harvesting and replanting to begin the cycle again. Tracks and water courses through the pine trees are also shown, bringing and sustaining life.
Yindinji, the carpet snake that appears in HQP website art also designed by Joel based on the Ku'lulu Dauwa Dhu story, is a spiritual totem for the Butchulla people representing creation. Yindinji was sent to help create the animals, plants and rivers and teach traditional custodians the lore of the land. To the Butchulla people, Yindinji is a symbol of lore and sustainability of this beautiful shared land.

Joel Barney, a proud Butchulla First Nations man, is a self-taught artist born and raised in Hervey Bay.
"I started painting in 2015 and developed my own style of Aboriginal art based on my people's stories and also my mentors from other tribes who taught me how to use paint to express myself. When I paint Butchulla art, I take all my reference colours from the life and scenes I see around Butchulla country."
The Butchulla First Nations People are the traditional custodians of K'Gari and the land that extends south to major parts of HQPlantations Wongi and Tuan plantation forests.
Butchulla people lived in harmony with the seasons and the land and sea, maintaining a balance between spiritual, social and family connections.
Today the Butchulla people continue to walk the cultural pathway of their ancestors, whom they believe have lived on this country since the beginning of the Dreaming.
Embraced as extended family, the Butchulla community comprises of those who are Butchulla born, those who possess strong cultural connections, and returned descendants of those removed from their country. Today, all are finding fulfilment in their spiritual and cultural connections, including opportunities to work on country in plantation forests.
You can see more elements of Joel's art throughout this website, reproduced digitally with Joel's permission.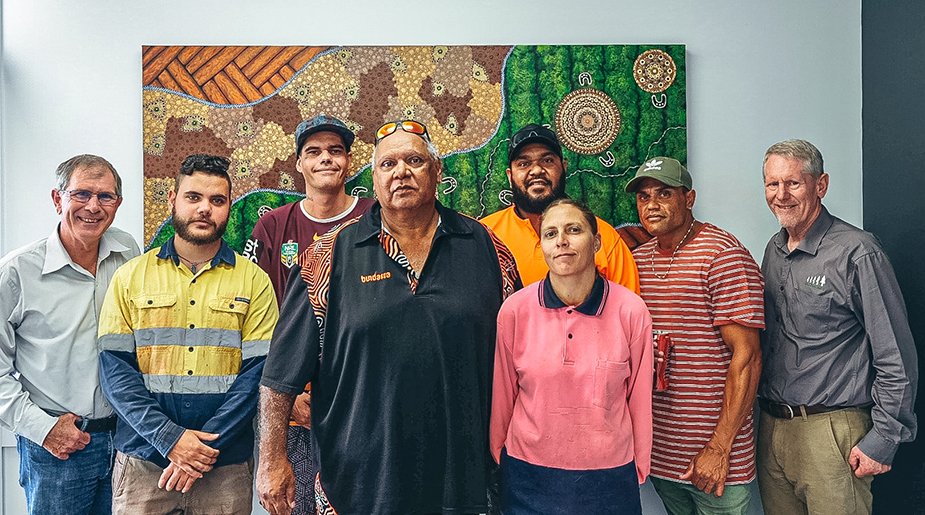 Acknowledgement
We acknowledge Aboriginal and Torres Strait Islander Peoples as the Traditional Custodians and First Nations Peoples of the place we work, live and learn. We pay our respects to their ancestors and Elders past, present and emerging and thank them for enriching us with their cultural practices, traditions, lore and connection to country.