Eucalypt seed donated to Dalby Indigenous program
HQP donates eucalypt seed to Indigenous-led program at Dalby
Based on an article in Forestry & Timber eNews by Jim Bowden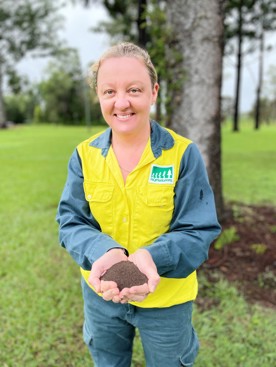 The Dhiiyaan centre, on a 16 ha property near Dalby, provides an Indigenous-led initiative that is teaching young people practical skills in forestry and farming.
"It's about a connection with country, giving young people a sense of purpose and self-worth," says Vicki Williams, finance administrator of the Brisbane-based Dhiiyaan Aboriginal Corporation.
"This is also a space where new friendships can be developed and health and trauma issues can be healed, encouraged by young groups working together with the soil and caring for the farm animals that benefit from it. And trees are a very important part of this."
A big productive notch in Queensland's Brigalow Belt – a wide band of acacia-populated grassland that runs between the tropical rainforest of the coast and the semi-arid interior of the state – the Dhiiyaan property at Dalby has areas of mature mulga and red gums giving shade for cattle, horses and free-range chickens.
The property's tree program got a boost in March with 200,000 Chinchilla white gum seeds (Eucalyptus argophloia) gifted by HQP.
Nursery Manager, Leisa Overs with Chinchilla white gum seeds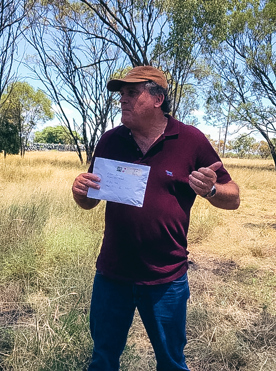 The seeds were presented to the Dhiiyaan centre at Dalby by Simon Dorries, CEO of Responsible Wood, further expanding its spread of sustainable forest accreditation in Queensland.
"The donation by HQP will further highlight the great work under way at Dhiiyaan and it was a privilege to support the aims and objectives of the organisation," Mr Dorries said.
Vicki Williams said the seeds were welcome in a region that experienced harsh weather extremes. "We're hoping for 10,000 trees in 10 years," she said. "A tough target I know but we're going for it."
Dhiiyaan will propagate the seeds in its own greenhouse for either a January or autumn planting next year, depending on the season and taking advice from foresters and a local nursery.
By adapting Yeoman's plough and biodynamic farming methods, the property hopes to get some good healthy bacteria back into the soil.
Highlighting the great work under way at Dhiiyaan… Simon Dorries presents seeds donated by HQP for propagation in the centre's tree-planting program
"The Dhiiyaan community has ebbed and flowed through 17 years and the hard-earned lessons have created a culture of hospitality, integrity and humility among members," Vicki Williams said.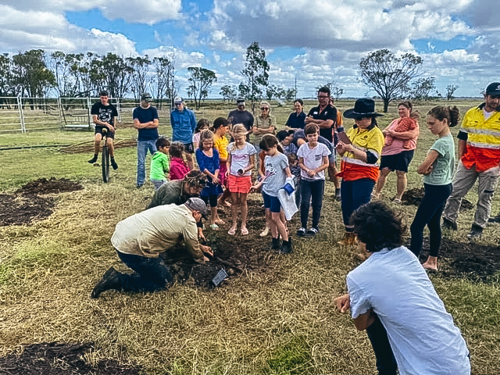 "For us it represents an opportunity to work and walk with young people who can benefit from a community and property that have the same passions that we have. This also includes conducting camps that give the opportunity to connect to 'Creator, Country and Community', a 'whole-of-life' support for families.
The Darling Downs was inhabited by the Indigenous tribes of the Jagera, Giabal and Jarowair people for at least 40,000 years before European settlement. Estimations place the Indigenous population pre-settlement from 1,500 to 2,500 people. This was originally known as the 'upland area' and Indigenous people used a technique in hunting food where they would burn the grasslands with the  new, green sprouts attracting animals. This earned them the name 'Gooneburra', or 'the ones who hunt with fire', by coastal tribes.
Dhiiyaan's Vicki Williams and husband Billy (in foreground) plant a pine tree at the Dalby property watched by an enthusiastic group from the local community