Plantation road safety campaign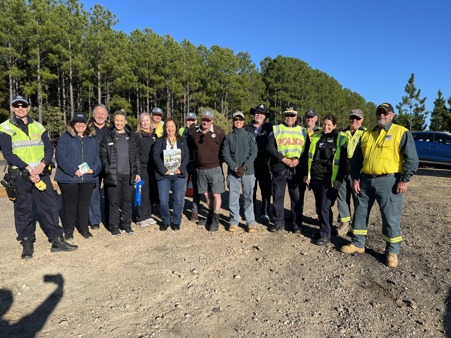 On Saturday 12 June, HQP assisted police with an inter-agency education operation to remind motorists about riding and driving safely through plantation forests.
Volunteers in Policing (ViPs) and police from the Moreton Crime Prevention Unit and Road Policing Unit, joined Queensland Parks and Wildlife, HQPlantations, RACQ, Department of Environment and Heritage, and Transport and Main Roads in the operation in Beerburrum State Forest, Woodford.
Police spoke to more than 100 motorists, conducted 85 roadside breath tests and issued one traffic enforcement notice.
It is important to remember that forest roads are roads like any other and you must hold a licence and have your bike registered.
See some frequently asked questions below and visit the MyPolice Blog for more photos of the event.
Can I ride my trail bike in a state forest?
Only where signs indicate public vehicle access is allowed or on a gazetted road that traverses the forest. You must be licensed to ride a motorbike, your bike must be fully registered (conditionally registered bikes are not allowed) and you must only use roads that are not closed to public vehicles.
The same laws regarding licensing, registration, insurance, roadworthiness of vehicles, safety, etc. apply when you are riding your bike in a state forest.
Where can I ride?
Only where signs indicate that public vehicle access is allowed. Additionally, only if such an area is not fenced or closed due to work and maintenance being carried out.
Are there different road rules for riding in a state forest?
No, the road rules are the same as driving on a bitumen roadway; this includes drink and drug driving, speeding and dangerous driving.
Can my children ride their motorbikes in a state forest?
Only if they hold a driver licence.
A person permitting or supervising unlicensed riding of a motorcycle can face fines for offences themselves.
What if I am riding in an area the public should not be in?
Being in these areas is an offence and you may face a fine or your bike may be confiscated.
Are there places I can ride other than state forests?
Yes, there are privately owned places you and your kids can go to.
Find them on the internet or social media.
Ride safely where it is lawful to do so and don't risk the lives of your children.
You can also use the police links below to report unlawful or suspicious behaviour or visit our page.
If you have information for police, contact Policelink by providing information using the online suspicious activity form 24hrs per day at www.police.qld.gov.au/reporting.
Report crime information anonymously via Crime Stoppers. Call 1800 333 000 or report online at www.crimestoppersqld.com.au.