Women challenge the status quo
Forestry may be work that has historically been done mostly by men, but a growing number of women are challenging the status quo at HQP and throughout forest management.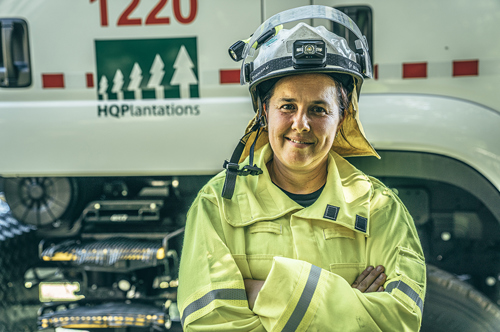 For International Women's Day 2021, HQPlantations is celebrating the achievements of it's female employees in the office and the field.
HQP is one of Australia's largest forest growers, managing plantation forests from the NSW/QLD border to Kuranda north of Cairns.
Chief Executive Officer Jeremy Callachor said the company employs over 30 talented women in a wide variety of professional roles including forest science, resources, planning, sales, finance, business systems, law, stakeholder engagement, land management, human resources, and business and technical support.
It may be work that has historically been done mostly by men but a growing number of women are challenging the status quo at HQP and throughout forest management.
"Workplace diversity contributes a broader range of ideas, experiences and perspectives, increasing creativity and productivity for the individual and the company. Everyone benefits," said Jeremy.
To ensure women, and all HQP's employees, continue feel welcome, respected and valued, the company has established a Diversity and Inclusion Reference Committee striving to develop an inclusive and diverse workforce at all levels of the company and champion our Growing Together culture.
"There are wonderful opportunities in forest management for women who enjoy varied, challenging work using innovative technology in office and natural environments," Jeremy said.
Many of the women at HQP also assist with fire protection, with many accredited female fire fighters working on the fire ground or in logistics roles.
By day, Julie Langridge is HQP's permit administration officer in the company's Beerburrum office in the picturesque Glass House Mountains. Julie ensures that permit applications lodged by members of the public and organised groups to undertake activities in the plantation are assessed in accordance with HQP's requirements against key criteria for sustainable forest plantation management.
However, when there's a fire, Julie switches to Crew Leader mode, grabs her kit bag and fires up one of the Beerburrum plantation's 3,500 litre Isuzu 4WD dual cab fire tankers to lead an accredited firefighting crew of up to five to the fire ground.
"I've worked for HQP for 10 years and have lived in the area most of my life, so protecting our plantations and my local community from fire is important to me," said Julie.
"On the fire ground there is no gender distinction, we are all equal contributors. We work together as a team and look out for each others safety, and everyone respects the chain of command, which is critical when you're a Crew Leader," she said.
With 50-60 fires a year on average in the Beerburrum plantation, largely caused by torched cars, arson and campfires, firefighting certainly keeps Julie and the company's other accredited fire fighters busy.
"The great people I work with, getting out into the field and knowing my contribution is valued by HQP and the community are the best things about my job," Julie said.
"I'd recommend this kind of work to any woman who likes working outdoors, the gender balance in forest management is changing and women are encouraged and supported."
On International Women's Day 2021, HQP will show its recognition and appreciation for the contribution of women like Julie, at work and at home, by hosting a series of celebratory morning teas at its offices throughout Queensland.