Surveying for koalas is a regular part of our daily work when planning and implementing harvesting, prescribed burning or clearing operations.
By Jeremy Mansell
Following a review of HQP's Planning and Operational Guidelines in 2022, we have implemented a range of methods and protocols to improve detection and protection of our fluffy friends. In terms of detection, we:
Have engaged University of the Sunshine Coast to undertake surveys with sniffer dogs, which are very accomplished at detecting koala activity in a location through some well-developed olfactory senses.
Use a UAV (drone) contractor equipped with thermal imagery cameras to find heat signatures in areas of interest. It is very cool seeing the little fellas actually move on camera, reaching for food or having a scratch.
Continue to engage local ecologist, Rick Sizer, to provide his awesome advice on the habitat potential for specific areas and identification of important feed trees to keep an eye on.
Have increased ground surveys using trained staff and contractors to monitor activity prior to and during operations.
Danny the detection dog (Bellden Environmental Services)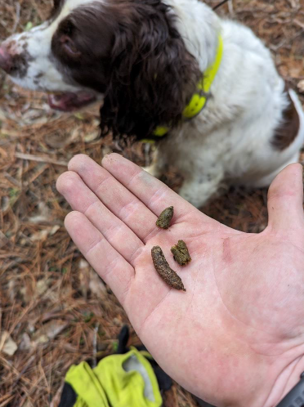 Our koala surveys target areas of potential koala habitat identified spatially across the HQP estate. Since the review of the guidelines in 2022, we have spotted  36 koalas and logged hundreds of canine and UAV kilometres in survey work. The review and subsequent operational focus has been a credit to those staff and contractors planning and undertaking survey work to protect the koala population.
We are currently in the middle of koala breeding season, meaning they are on the move and there is a much higher chance of them crossing roads and showing up in unexpected places. With the developing hot and dry conditions, they are also more likely to be seeking out cool moist areas such as the native forest strips along the creeks and gullies throughout our SEQ plantations, so please be on the lookout!