People - the heart and soul of our business

Our plantation forests aren't just about trees – they're about people. In our forests, offices and communities, our people are what makes us grow.
From the researchers who pour their knowledge into producing the best quality seedlings, to the foresters who nurture and protect them, and every member of the team who adds their unique skill set and perspective along the way, our people are our most valuable asset.
To support our people, we foster a culture at HQP that aligns individual and collective attitudes, values, beliefs and goals towards safety, diversity and inclusion.
We also offer opportunities for professional development, competitive remuneration and benefits, and interesting, challenging and rewarding career pathways.

OUR GROWING TOGETHER CULTURE
HQPlantations culture is safe, diverse, inclusive and determined, where we act with respect, integrity, and positivity.
We believe in a high-performing business environment that is welcoming and supportive, promoting teamwork through individual expression and transparency, where innovation is encouraged, achievement is recognised, and quality is paramount. We are empowered to demonstrate genuine leadership and in return we recognise our duty to act responsibly, learn from our mistakes, be a team player, and treat others with respect.
Together we continually grow our culture by ensuring that every day, everyone reflects our corporate values.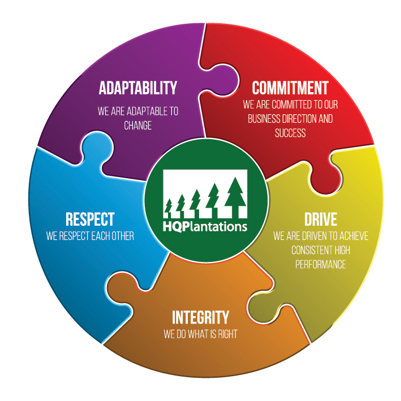 Our corporate values
At HQP we also grow by living up to our corporate values - adaptability, commitment, drive, integrity and respect.
Our Corporate policies
We are committed to upholding strong safety, privacy and ethical standards to protect the rights and interests of all of our employees and stakeholders. These include our Privacy Policy, Anti-Bribery & Corruption Policy and Whistleblower Protection Policy. Read more about these and other policies that guide our work.