Meet the dedicated managers guiding our people and our business
Our leadership team drives the daily management and planning of our business. Committed to fostering a safe and healthy workplace, they empower employees to successfully achieve our business objectives through good governance and strong stewardship. These managers work together as a team to provide strong strategic and operational leadership to the broader HQP organisation, and take a focused approach to the culture of HQP to ensure its integration into everyday operations.
Jason Wilson
Responsible for company-wide operations, Jason provides the operating framework to achieve our business goals and our vision of a safe, sustainable future for our people, our plantations and our communities.
Having joined HQP in 2023, Jason is an experienced CEO with extensive executive-level experience in the forest and timber industry both in Australia and New Zealand. He is passionate about being a part of sustainable forest management and the broader industries we support.
Jason holds a Bachelor of Commerce and Management from Lincoln University New Zealand, and a Master of Enterprise from the Melbourne Business School. More recently, Jason completed the Senior Executive Program at Stanford University in California.
With more than 25 years in the industry, Jason brings experience from a range of markets and roles including developing engineered wood product businesses, leading the strategic redevelopment of large timber manufacturing facilities, and the merger and acquisition of businesses to achieve growth potential both domestically and internationally. Recently, Jason also lead the partnership between government, industry, the workforce, and Māori to strengthen New Zealand's forestry and wood processing supply chain.
Jason will continue to drive HQP's vision to create and sustain plantation value and security for generations.
Harish Lal
Harish joined HQP as Chief Financial Officer in January 2011. He performs an integral leadership role in the achievement of our strategic long-term results, and is responsible for commercial services including financial management and planning, corporate and statutory reporting, information technology, legal and business services.
Harish has worked in a variety of senior financial management roles associated with the timber industry, including 16 years in forestry and four years in wood processing in New Zealand and Australia.
Prior to joining HQP, Harish was the Finance Manager for Hancock Forest Management (NZ). Harish holds a Bachelor of Financial Administration with Honours from the University of New England, and a Graduate Diploma of Forest Science and Management and Master of Business Administration from Southern Cross University.
Harish is a full member and a registered mentor with the Institute of Chartered Accountants of Australia and New Zealand, and a graduate of the Australian Institute of Company Directors.
Steve walker
From seed to market, the operations, science and marketing teams collaborate to bring our forests to life. As Chief Operating Officer, Steve's role is to support and grow our One HQP culture and ensure the very best opportunities for sustainable growth are provided to our forests, our staff, our customers and our communities.
Approaching 30 years in the forest industry in roles across Australia and New Zealand, Steve has led a range of teams, including most recently as Chief Operations Officer at Chinese SOE China Forestry Group.
Steve holds a Bachelor of Forest Science from the University of Melbourne and MBA from Deakin University. He is also a Gottstein Fellow and graduate of the Australian Rural Leadership Foundation TrailBlazers program.
Steve has a passion for the forest industry and loves the people and products it supports.
Outside the office, Steve and his wife Sylvia are bringing up two children and love spending time as a family tramping (kiwi bushwalking) and enjoying the best beaches Queensland has to offer!
David West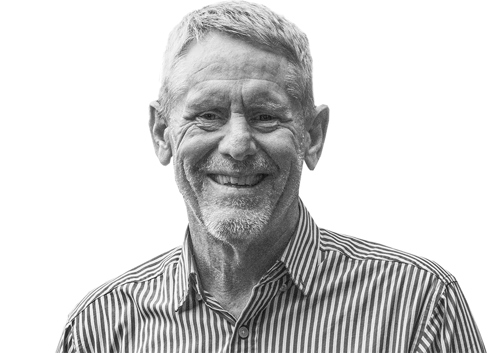 A veteran of more than four decades in the forestry industry, David has held a variety of operational roles in forest research and resources groups, as well as senior management roles in the areas of marketing, finance and stewardship.
His current role at HQP encompasses responsibility for delivery of major and strategically important projects supporting HQPlantations business growth and supporting the continued development of government and key stakeholder relationships.
David also plays an important role in mentoring and developing emerging leaders within HQP to support their transition into executive or senior management roles.
A member of the Institute of Foresters of Australia and a former board member of Responsible Wood, David holds a Bachelor of Science in Forestry from The Australian National University and a Finance MBA from the Queensland University of Technology.
He has been pleased to see the growing realisation in the community that plantation forestry isn't just about cutting down trees, but is a truly sustainable industry that's set to be a key contributor to the future low carbon economy.
In his time off, David enjoys travelling, being active and enjoying the Queensland lifestyle with his family.
Daniel Pfrunder
Daniel joined HQP in 2012 and leads our people & safety team, which provides the human resources, health and safety and corporate fire management functions of HQP.
Daniel has performed a variety of human resource management roles in both the HQP business and previously in local government.
As a member of the Australian Institute of Human Resources and the current treasurer of the Industrial Relations Society of Queensland, Daniel holds a Bachelor of Business (Human Resource Management) from the University of the Sunshine Coast, a Graduate Certificate in Industrial Relations from Charles Sturt University, and is currently completing a Bachelor of Laws.
Mark jones

At HQP, Mark leads a team of professionals tasked with managing our long-term resource planning, resource systems, geospatial and valuation functions to support the achievement of our commercial goals. 
He first developed an in interest in tree growing and land management when volunteering with a local Landcare group during high school.
Since then, Mark completed bachelor degrees in commerce and science followed by a Masters degree in forestry through the Australian National University.
Mark has worked in a variety of operational, planning and management roles across the natural resources sector, including three years in agriculture and 12 years in forestry. Prior to joining HQP, he was the Resources and Tactical Planning Manager at Forestry Corporation.
An outdoors enthusiast, Mark is also a keen mountain biker, surfer and bushwalker.
Mark continues to be motivated by the significant role that trees and timber play in the world's transition to a renewable economy.

Michelle McAndrew
Michelle has been with HQP since its inception and leads a dedicated team helping to ensure we keep good stewardship at the heart of what we do.
Her current role at HQP encompasses responsibility for maintaining sustainable forest management certification, fostering strong stakeholder relationships, delivering meaningful environmental programs and projects, managing recreation and permits across the plantation forest landscape, and ultimately maintaining HQP's social licence.
Michelle completed a dual science and forestry degree at Australian National University in 2001. She has worked in the Queensland plantation forestry sector ever since, with a long involvement with operational policy and standards, integrated management systems and sustainable forest management certification.
Like many in the industry, Michelle sees sustainable forest management as having a key role in our transition to a circular economy and is excited to play a part in that journey.
In her spare time, Michelle enjoys sailing for relaxation or exhilaration – it depends on how hard the wind is blowing!