Our road networks connect our industry

Plantation roads provide a safe path for our trucks to transport timber from our forests to our customers' mills and access to our plantations for firefighting and forest operations. While not their primary purpose, our roads also serve as thoroughfares for communities surrounding our plantations and provide opportunities for lawful recreation.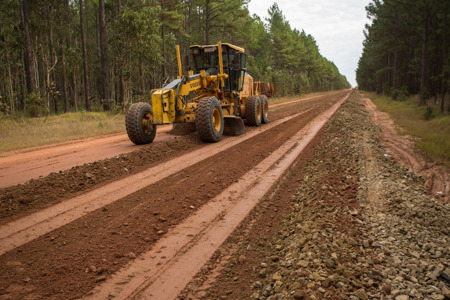 We maintain more than 17,000 km of roads and tracks across our estate. Road construction and maintenance is carried out with a focus on effective drainage and sediment control, building road pavements for safe haulage, and with a view to reducing impacts on the environment. 
Our road network is constructed over a wide variety of terrains, which impact the classification, speed and accessibility of the roads. Most roads are unsealed, with gravel and natural earth pavements, and usage varies depending on harvest and management activity. 
We invest heavily in maintaining our road network, and ask that forest visitors respect it as we do. Please follow our rules for responsible recreation – failure to comply with these requirements is an offence and penalties apply.
Here are some guidelines for safe, responsible and lawful use of plantation roads:
Be alert for forest operations and comply with signage. Never enter a worksite, even if you can't see any machinery operating. You must turn around when you see DO NOT PROCEED signs or DANGER signs. 
Queensland road rules apply, just as they do on any other public road. 
Drivers and riders must be licensed and vehicles must be registered and roadworthy. 
Drive or ride on formed roads only. These are the maintained roads around compartments of plantation trees that have been constructed for through traffic and have drainage. 
Do not drive or ride on tracks and fire breaks. These have been constructed for forest operations and fire management only. 
Do not use, build or create tracks or modify existing roads or tracks. 
Do not drive or ride in our plantation forests when roads are wet or through mud as this damages our roads and causes environmental impacts. 
Four wheel drive touring is permitted but our roads are not created for four wheel drive adventuring, and doing so causes damage over time. 
Check for forest closures before you leave home.