HQP announced as an Inclusive Employer by DCA
Diversity Council Australia announces 2023-2024 Inclusive Employers list
To celebrate Inclusion at Work Week, Diversity Council Australia has revealed which organisations earned a spot on its list of 2023-2024 Inclusive Employers and we're honoured to be among them.
It's an extremely proud moment for our company and the people who make it special, acknowledging that together we're creating a workplace where our differences are valued and everyone is encouraged to be their unique and authentic selves.

This year a record 82 organisations were recognised for their commitment to diversity and inclusion, representing a broad range of employers from a variety of industries.
Produced in partnership with Cultural Infusion, the Inclusive Employer Index enables organisations to comprehensively assess and monitor the state of diversity and inclusion in their workforce.
To make the list, participants must prove their commitment to diversity and inclusion by having employees complete an in-depth survey to map the state of inclusion in their workplace – and produce results that exceed national benchmarks on a series of key measures.
This announcement coincides with DCA's second annual Inclusion at Work Week which celebrates all the great work Australian organisations do to foster a more inclusive and diverse workforce.
Inclusion at work is much more than just a feel good exercise. DCA's most recent Inclusion@Work Index shows workplace inclusion significantly increases performance, wellbeing and innovation. Plus, workers in inclusive teams are: 
three times less likely to leave their organisation
more than twice as likely to put in extra effort
almost 10 times more likely to be innovative
four times more likely to provide excellent customer service.
"DCA is delighted to reveal this year's list of Inclusive Employers," DCA CEO Lisa Annese said.
"We know that inclusion has significant benefits for both employers and employees. DCA's Inclusive Employers Index is a rigorous process that reveals the state of inclusion and diversity across participating organisations. 
"It's an opportunity for workplaces to show their commitment to inclusion, reflect on their achievements and identify ways to do even better," she said.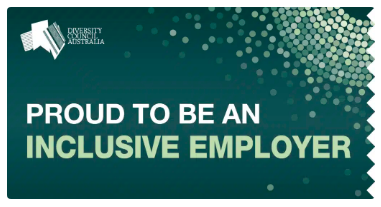 "Forestry has not traditionally been thought of as an industry with great diversity, so it is wonderful to receive the news HQPlantations has been recognised as an inclusive workplace for 2023-2024," said Jason Wilson, HQPlantations Chief Executive Officer.
Jason said the award re-enforces the efforts HQP's Diversity, Equity and Inclusion Committee has been working towards over the year, and in particular the action plan developed for the next 12 months.
"I am delighted that the work being completed by our people has been recognised by their peers," he said.
"HQP's workforce has a variety of backgrounds, experiences, and perspectives – this is vital to ensure our future success and brings a diversity of thought and perspective to our everyday lives.
"This diversity sparks creativity and innovation, enabling us to tackle challenges with fresh ideas and approaches as we build on the work of others in our industry for over 120 years."
See the full list of 2023-2024 Inclusive Employers.
Diversity Council Australia is the independent not-for-profit peak body leading diversity and inclusion in the workplace.