New study options address industry skills shortage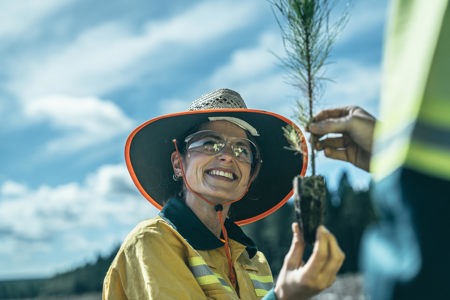 A skills shortage putting the future of forest management in Australia at risk is being addressed by a new collaborative model driven by the Committee for the Future of Forestry Education (COFFE).
Reduced demand has been reflected in decreasing opportunities to study forestry at an undergraduate level in Australian universities. As a result, HQP and other forest growers have turned to environmental science and agriculture graduates, however these degrees lack specialist forestry knowledge and skills development.
COFFE, comprised of universities, commercial forest growers, Australian Forest Products Association, ForestWorks, ForestLearning and Forestry Australia, has responded by developing collaborative new pathways to find a solution to secure the future of the profession with a nested Graduate Certificate in Forestry and Graduate Diploma in Forestry programs with potential future opportunities to extend this program into a Masters through further course work, a research project, or combination of both.
Coordinated by the University of Tasmania, this innovative model will see various units delivered by different institutions including Southern Cross University, Australian National University, Melbourne University, University of South Australia, University of the Sunshine Coast and University of Tasmania. 
Online intensive delivery will be supported by up to five days in-field learning experiences for practical units. Kicking off with a Graduate Certificate, units will include an Introduction to forestry and the forest sector; Forest planning and operations; Carbon forestry; and Plantation silviculture. The first unit is expected to open for enrollment in 2024, with more units building towards a Graduate Diploma to be added in 2025.
To maintain program viability, forest growers have committed to a minimum enrolment guarantee for the first five years with additional funding support to be sought from Commonwealth initiatives.
For more information, contact HQP's People and Safety team on 3882 8271 or contact us by message.